A Brief History of Keluarga Pencak Silat Nusantara in Holland

Phase I

In 1990, when O'ong Maryono came to live in Holland with his family, his passion for pencak silat inspired him to establish the first KPS Nusantara school. With the help of his wife and a close friend, he legally formed the Vereniging (Association) Pencak Silat Nusantara Holland as a member of the national pencak silat bond (Nederlandse Pencak Silat Board, or NPSB). The first board consisted of Dr. Rosalia Sciortino (President), O'ong Maryono (Secretary) and Ted Jorritsma (Treasurer). The objective of the Vereniging was to broadly promote Indonesian culture, including pencak silat and Javanese dance.
In the beginning, the Vereniging had only five members, but it rapidly grew to more than 30 members. Training sessions were soon held four times a week in South Amsterdam and North Amsterdam. In due time the city government (Gemeente Raad), West Amsterdam, trusted the Vereniging to conduct a comprehensive program for youth and introduce pencak silat as an extra curriculair activity for more than 300 students at the Marcanti Gemeente School. An important achievement was the victory of two KPS Nusantara athletes at the European Open Championships in Austria in 1993.
Soon thereafter, O'ong left Holland to return to Indonesia, and with the dispersion of junior trainers to other cities, the Vereniging stop to function.
Phase II
In 1998, during his travel to Indonesia, Stephen Polak begun to become involved with KPS Nusantara training with Greatmaster Hadimulyo and his son Sinung first, and later with O'ong Maryono, while also training with other schools. Later in 2003 he decided to specialize in the KPS style and become an official trainer by training in Jakarta and taking the necessary examinations.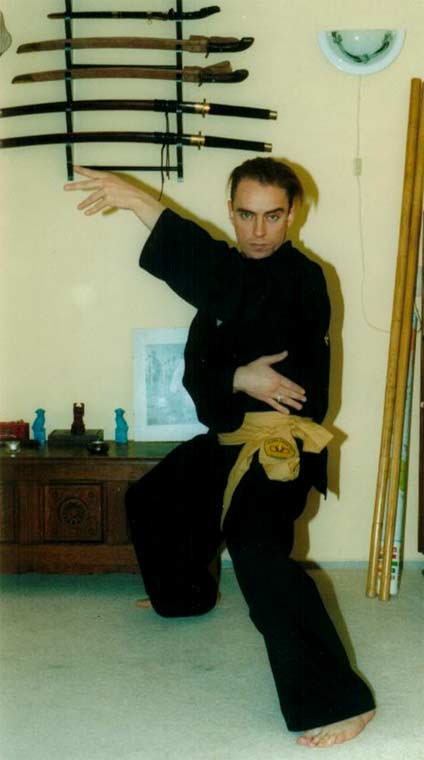 Here Stephan is standing in preparation for a side kick.
After returning to Holland, Stephen Polak opened a Nusantara KPS Club in Alkmaar. Every Friday afternoon specific training classes are held for youth and adult groups. This new organization has recently become member to NPSB. KPS Nusantara Holland was thus reborn!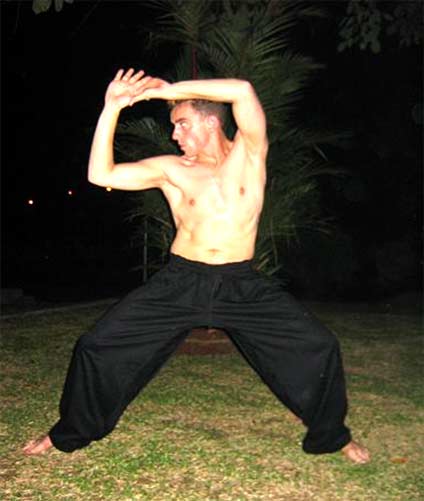 Stephan demonstrates the eagle pose.
Bello School s
Snaarmanslaan/Spoortbuurt
Tel: +31 6 53948823
kpsnusantara@hotmail.com