The History Keluarga Pencak Silat Nusantara in The Phillippines

The history of KPS Nusantara started in Mandaluyong in 1998 when I began training with Francis Pisa, a former national athlet and member of the Philippine Pencak Silat Team. My desire to learn more about pencak silat soon motivated me to approach Pendekar Mohammad Hadimulyo, master and founder of KPS Nusantara, who at the times was training the Philippine national team. During my training with him, I learned the various intricate and sophisticated movements of KPS Nusantara. The more I learned, the more I become involved.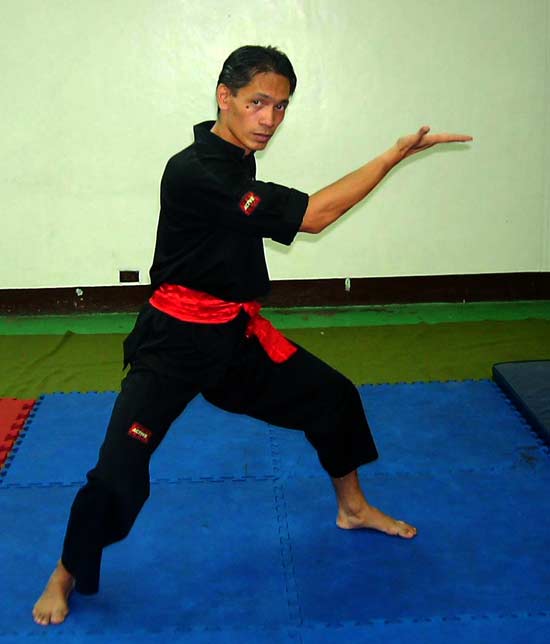 Bong Ebenir is standing for elbow blocking.
Pendekar Mohamnmad Hadimulyo not only taught me the sports side of pencak silat but also allowed me to learn some initial self defense methods. One day he told me that if I wanted to learn more about fighting techniques I should ask his top student, O'ong Maryono.As he said "a real sport champion". I did this, and during his stay in the Philippines in 1999-2001, I got more insights into the principles and techniques of pencak silat.
After passing the trainer examination and being authorized by both Mohammad Hadimulyo and O'ong Maryono, I started teaching KPS Nusantara at Rizal Technical University. and Don Bosco Technical College in Mandaluyong. In due time, I was able to gather around thirty students who become enthousiast about learning pencak silat, and to train other would-be instructors who could help me spread KPS Nusantara to other parts of Manila.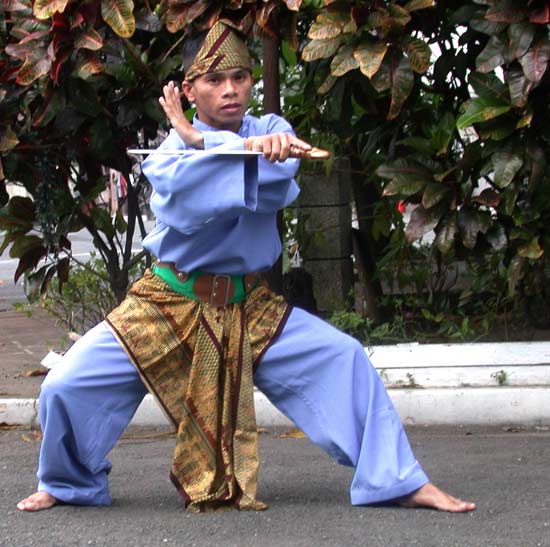 Abdul Karim is holding a short sword and using it for blocking.
At the moment, I still teach at Don Bosco Technical College in Mandaluyong City and offer pencak silat training during physical education classes. I have also opened another KPS Nusantara school in Tay-Tay Rizal Manila consisting of about 15 students.
Other KPS Nusantara schools in the Philippines are:
Kemuning Sport Center
Queson City
Coach: Francis Pisa
Joeze Rizal Sport Complex
Manila City
Coach: Edwin, Starlet, Cello
General Santos
Coach: Abdul Karim E. Abad
Lamitan Cityr
Basilan Island
Coach: H. Yasir
Salamat
Bong Abenir