The Establishment of Keluarga Pencak Silat in Thailand

During the last 15 years, the Pencak Silat Association of Thailand (PSAT) has been entrusted with the development of pencak silat in the country. The Thai Sport Authority started to support pencak silat activitities since 1987, when Thai athletes participated in the SEA Games in Indonesia. Still in comparison with other self-defence sports, pencak silat remains underdeveloped, and PSAT still has to recruit pesilat from Muay Thai to staff the national team and enrol in national and international competitions.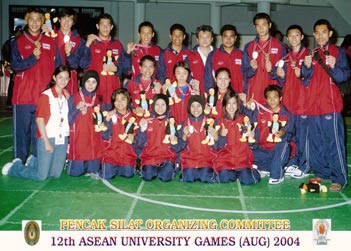 click to enlarge
Fortunately, on February 2002 a student from Ramkamheang University became concerned with this situation, and together with two friends, Imam Mahdi bin Abdurahman and Mohammad Ibnu Rodi Wehamak, came to Oong Maryono's house to discuss the possible establishment of a pencak silat school in Bangkok. This plan got the support of the Student Club Ramkamheang University, an organization with 4000 members mostly from Southern Thailand. The Club decided to undertake regular pencak silat training sessions as part of its cultural and social program. PSAT also supported the establishment of the Thai Chapter of KPS Nusantara by organizing a seminar on pencak silat at the Calina Hotel Bangkok. 74 members attended the seminar and elected the board as follows:
Chairman: Masookree Kueteh
Secretary: Mohammad Ibnu Rodi Wehamak
Treasurer: Imam Mahdi bin Abdurahman
Trainer: O'ong Maryono
Adviser: Kaseem Benchawong

They also decided that the newly established pencak silat school would be named "PENCAK SILAT NUSANTARA OF RAMKAMHEANG UNIVERSITY"
The training schedule, is every day from 8.00 to 11.00 AM at Rajamandala Hall, Stadium Ramkamheang, Bangkapi, Humawak, Bangkok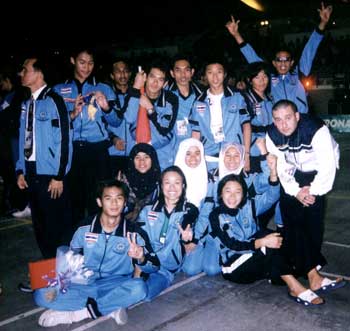 click to enlarge